Today is day one of getting back to a way of eating that suits me. A way that keeps me energised, feeling light and actually lighter in a few weeks time.
I am fairly active but I don't lose excess weight easily. I can happily cycle 30 miles, I have an active day job as an osteopath and yoga teacher so what gives?
After some experimentation and study of the Ayurvedic approach to eating it began to make sense. I employ a little of many approaches to eating and what's 'good' and what's 'bad' depends on how you feel when you eat it. Observe your energy for a few days and try and honestly experience how you feel and what impact your food energy choices have had on that.
As I say this is day 1 for me to get back on track. I have let loose a bit for understandable reasons but at the end of the day, having structure and observing my guidelines works for me.
On that note I'd like to share my lunch recipe with you. It's high calorie but has a big nutrition hit.
Almond & Flaxseed Burger with Greek Salad, (the grilled holloumi was husband's non-vegan version)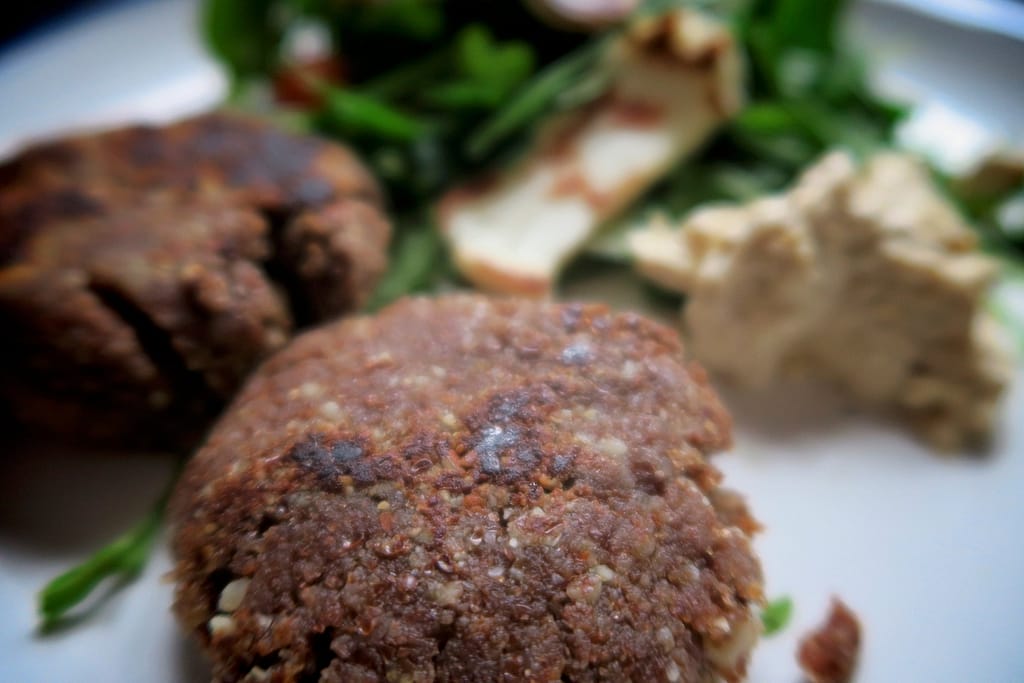 The ratio which you can scale as you wish;
This made 4 palm sizedburgers or patties. 1 with a large salad was plenty for me. Pop in the fridge and that's lunch for a few days without getting the blender out again.
1 cup almonds, (I soak most nuts and seeds overnight to make them more digestible)
1/2 cup ground flaxseed, (also called flaxseed meal)
2 Tablespoons balsamic vinegar
1 Tablespoon coconut oil. (or an unsaturated oil of your preference, add a little as you go to monitor texture. You want to be able to ball the mixture up without it crumbling too much or being too dense)
2 cloves garlic
Blend the lot together in a blender or food processor, I use an omniblend blender. Blending duration depends on how course a mixture you like.
Empty on to a clean board and ball into palm sized balls. Gently flatten. You can have these raw or lightly fry or grill. The oil in them is enough to brown off. As you can see I browned mine a little too long.
Serve with a leafy green salad for a very fulfilling micronutrient rich meal.